What's happening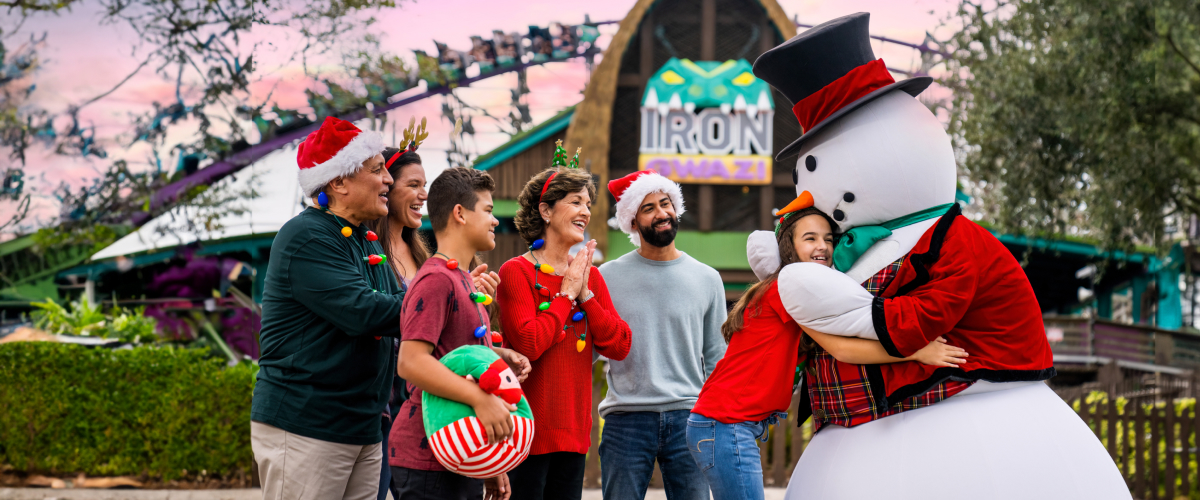 Featured Event
Christmas Town
The holidays come to life at Busch Gardens® Christmas Town™, the park's award-winning holiday event.
View park hours, upcoming events, show schedules and activity times for your next visit.
View calendar
Animal experiences
From some of the world's most interesting animals to some of its most endangered, share in our passion for the animals in our care through up-close encounters.
Rides & attractions
Whether you're a coaster enthusiast or want rides that are fun for the whole family, Busch Gardens Tampa Bay is home to some of Florida's best roller coasters & thrill rides.
Award-winning shows
Enjoy world-class entertainment with exciting live shows for all ages, including award-winning productions and interactive, kid-friendly shows.
Seasonal events
From seasonal fireworks spectaculars and beer-inspired festivals to Halloween scares, holiday celebrations and more, there's always a new reason to visit.
Accredited & certified
Our animal habitats and animal practices are independently accredited, reviewed, audited, and certified by premier zoological and animal welfare organizations. This ensures that we not only meet, but exceed, the highest standards of animal care, anywhere. According to AZA, fewer than 10% of the ~2,800 animal exhibitors licensed by the USDA in the U.S. have met their standards, and we are one of them.
Join Our Team
We're hiring!
Looking for a fun job with amazing perks? We're seeking friendly and energetic individuals to join us for an EPIC year of new attractions, events and more!
Tickets + Lodging
Vacation Packages
Experience the ultimate getaway with our exclusive vacation packages! Stay at top-notch hotels like The Don CeSar, Holiday Inn Express & Suites, Embassy Suites Tampa, or Hyatt Place. Enjoy free shuttles, park admission, savor 10% off dining and much more. Book now and make unforgettable memories!
Busch Gardens Tampa Bay FAQs
As a Busch Gardens Tampa Bay Annual Pass Member, will I get free guest tickets?
Yes, free guest tickets are one of the many perks of having an Annual Pass Membership at Busch Gardens. Upgrade your ticket to an Annual Pass Membership and take your guests with you!
Can I bring food to the Busch Gardens Tampa Bay theme park?
No outside food or drinks are allowed into the park except bottled water. We offer many dining options inside the park. Try one of our many restaurants or upgrade to the All-Day Dining Deal for an exciting dining experience.
Can I upgrade to a Annual Pass Membership from a Busch Gardens Tampa Bay single-day ticket?
Yes, you can upgrade your ticket to an Annual Pass Membership and enjoy the many benefits of being a Pass Member, including free guest tickets. To upgrade, please visit Guest Services at the park.
Does Busch Gardens Tampa Bay offer free Wi-Fi for visiting guests?
Yes, we offer free Wi-Fi to our guests by selecting BuschGardensGuest to connect once inside the park. Signal reception may vary by location and device type.
Is smoking allowed at Busch Gardens Tampa Bay?
Yes, smoking is allowed at Busch Gardens Tampa in designated smoking areas (including electronic cigarettes). You can find smoking areas on the park map or the Busch Gardens mobile app.
What are Busch Gardens Tampa Bay's park hours?
Busch Gardens Tampa Bay's park hours vary. For park hours and presentation times, please click here.
What credit cards are accepted at Busch Gardens Tampa Bay?
MasterCard, Visa, American Express, Discover and JCB are accepted at all ticket booths, restaurants, and gift shops with proper identification.
Get updates & special offers
Be the first to hear about special offers, park news, upcoming events, and more!